My life rocks. I don't mean to say that in the sense that I'm bragging... I just mean that I have so much for which I am thankful. I created this card with that thought in mind: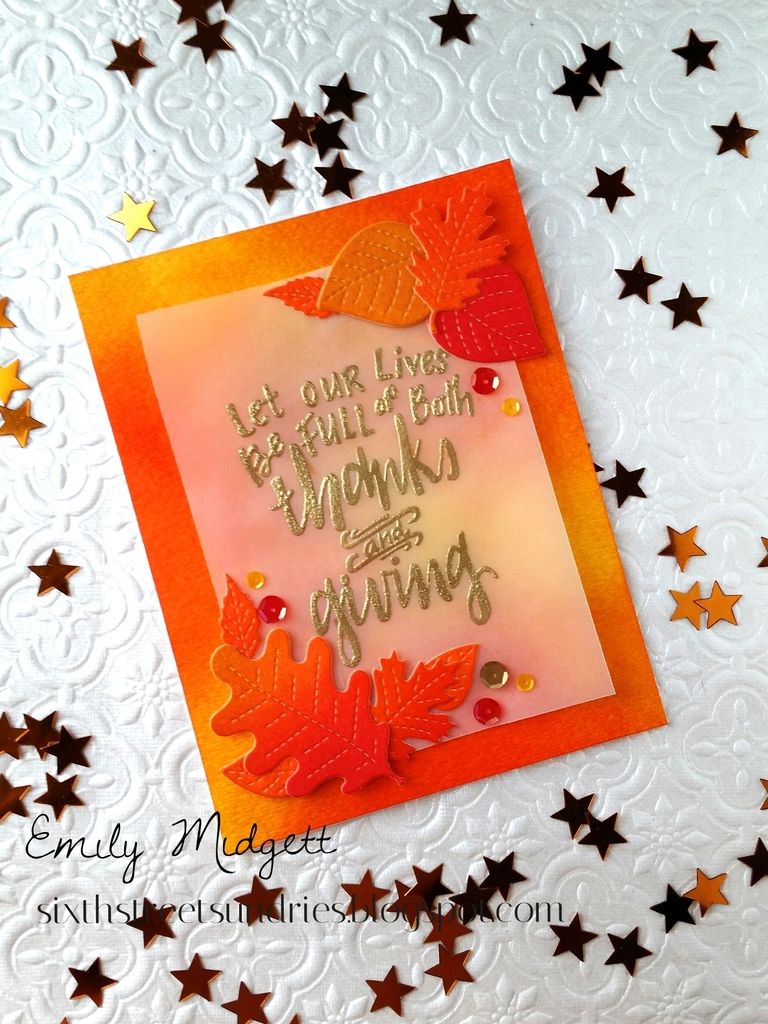 I started out with 2 panels of Strathmore 300 lb watercolor paper and blended Ripe Persimmon, Wild Honey, Mustard Seed, Spiced Marmalade, and Festive Berries Distress Inks on them. I then die cut
Lawn Fawn's Stitched Leaves
out of one of the panels. I love the variegated colors on these leaves; combined with the intricate stitched details from the dies, they almost look real! I then cut a small piece of vellum, which I treated with my anti-static tool and heat embossed the sentiment with gold embossing powder. I mounted the vellum panel to the second inky panel with some Kool-Tak clear dimensional adhesive, which I placed strategically behind some of the thicker letters and beneath the leaves. Some sequins finished it off.
I love that
sentiment
from Neat and Tangled. The idea that we should let our lives be full of not just thanks, but also giving, is one that I really love. This is an area of my life in which I'm not active enough. Jennifer McGuire has a stamp that says "share handmade kindness," and it's totally inspired me. I want to do more. I am so incredibly lucky to have so much, and I've decided I want to start sharing. I'm going to start by sending a box of cards to my grandmother's nursing home. If anybody knows of any organizations (something similar to Operation Write Home), I'd be grateful if you'd give me a heads up.
I hope you're still with me after that semi-maudlin post! I just have been feeling incredibly lucky these past few days... We had a wonderful weekend beginning my month-long birthday celebration by going with some friends to The Melting Pot (our first time!) and discussing some travel plans. I really took some stock in my life, and I came to realize that I really love my life, even if I am going to be 30 in 20 days. (ha!) What are you thankful for?