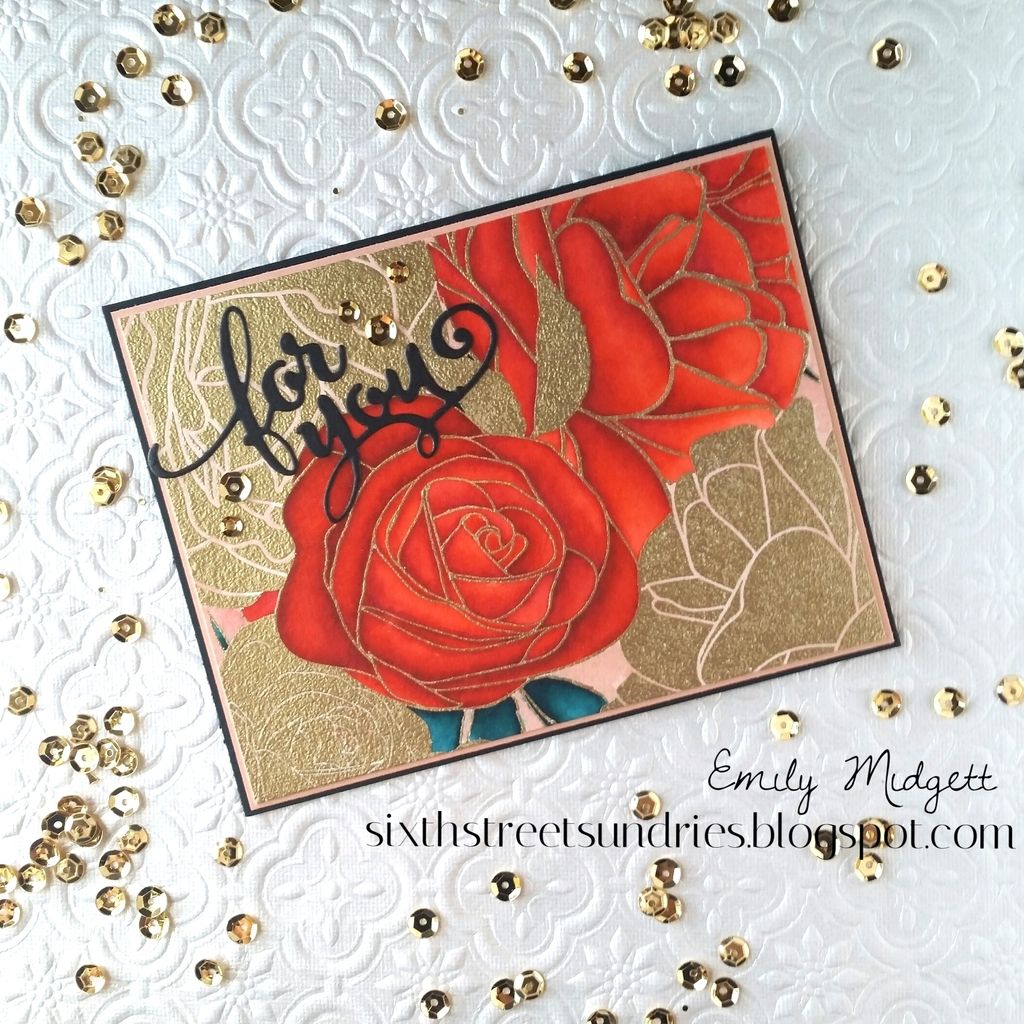 As you may have seen in the past, I have a "thing" for watercoloring their stamps. First, it was their Peony Background set (which I have posted about
here
and
here
and
here
), and then they came out with their Rose Background stamp.... Oh. My. Peas. (If you've never watched Super Why on PBS, move along.) It's GORGEOUS. I can't believe that I almost didn't purchase either of these because they are rubber and not clear.... my goodness, would I have missed out.
I embossed the entirety of the 6x6 stamp on a piece of Strathmore 300 series 140 lb hot press watercolor card stock using Princess Gold embossing powder. (You can read about my comparison of watercolor papers with these background stamps
here
.) I then used my trusty Zig markers to color the roses. My cousin has told me that she has deep orange roses in the bouquets we will carry in her upcoming wedding, so I have orange on the brain. I promise I will move on to a different color obsession very soon. After the watercoloring was complete, I decided that it needed a stark contrast for sentiment; I chose the "for you" die from Avery Elle's Gift Card Elle-ements and cut it from black card stock. I didn't want to detract from the coloring by adding anything more, so I just added a few gold sequins, matted it on a piece of pearlescent peach card stock, then mounted it on a black card base.
Heat embossing these backgrounds in gold is just insanely beautiful. I think embossing it in white is going to be my next project... if I ever get time. My kiddos' birthday party is... gasp.... THREE WEEKS away. Last year, I started planning and crafting the decor about six months in advance, so this gives you a little bit of an idea of how behind I am!!! Luckily, it's much more low key and at our house this year, so I can attempt to decorate the night before instead of rushing around like a crazy person. (Actually, it's probably UNluckily, because that means I have to clean the house... like seriously SERIOUSLY clean the house. Oy!) The invitations have been my first project, and it's one that I'm particularly proud of, so I'll show that in a few days.
See you soon! Have a great week!